Figoni & Falaschi "Pontoon Fender"
Generation Two Boattail Speedster
Sold at Kelles & Whels TX Auction for $105,000.
Also available in Kit Car form.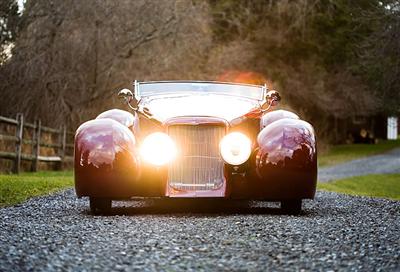 Former HOT ROD Magazine Editor (1972-'74) Terry Cook has an absolute passion for classic styling. Always seeking slippery shaped cars with sensuous flowing lines, he is addicted to Concours Coachbuilt cars. Unfortunately, like most of us, he has limited funds. As a result his DECO RIDES www.decorides.com produces hot rod versions of coachbuilt classics in Kit Car form, and as turnkeys.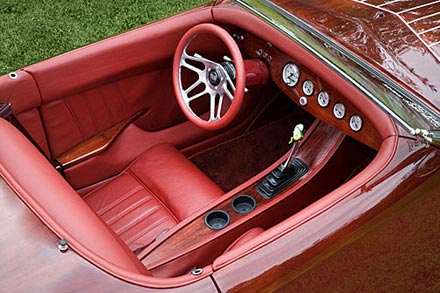 One of Cook's favorite cars is the Auburn Boattail Speedster built in Auburn, IN. He loves the styling of both the early 1927-'34 Al Leamy designed car (750 produced) and the better known Gordon Buehrig designed 1935-'36 models of which less than 500 were produced. With the help of others, over a period of several years Cook designed and developed a lowered, "hot rodized" streamlined Boattail Speedster. The Generation One fiberglass Deco Boattail has open front fenders with exposed wheels and either open or enclosed rear "pontoons".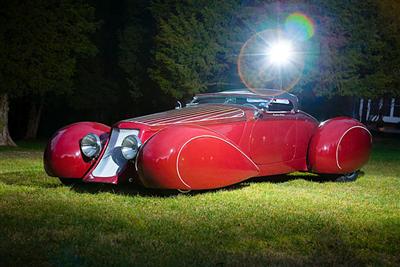 The Generation Two DECO RiDES Boattail was inspired by Cook's favorite coachbuilders, two Italians with a shop in Paris. In all automotive history, stylist Joseph (Guiseppi) Figoni and financial partner Ovidio Falaschi achieved the greatest notoriety for their incredibly beautiful but sometimes over the top streamlined custom coachwork. In almost 30 years from the 1930's to 1950's, Figoni & Falaschi produced about 1,150 coachbuilt bodies on Delahaye, Delage, Talbot Lago, and even Duesie chassis. Envious competitors coined their work as "Phony and Flashy", but their impact on automotive styling was incredible. The fully enclosed streamlined "pontoon" fenders on DECO RIDES' Second Generation boattail speedster shown here were inspired by and copied from a Figoni designed 1937 Delahaye that is valued at more than a million dollars.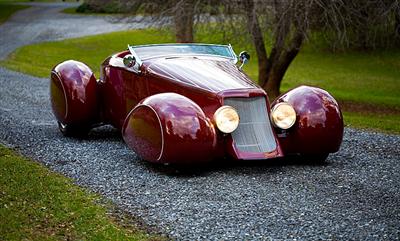 Originally designed as a full fender car, Cook experimented, creating an open-wheel highboy version of the car. Built using a wrecked 1997 Corvette as the basis, Superior Custom Classics in Hudson, FL created the highboy. A Fat Man Fabrications front suspension, a radically laid back, slightly curved windshield, and aluminum grille were used. Cook thought it would be funny to make the boattail look like a vintage Chris Craft, Gar Wood or Riva speedboat. At his direction, Melissa Brandl of SCC laminated 1/8-inch thick, 48-inch wide sheets of oak veneer (real wood), and bonded them to the top surfaces of the DECO fiberglass Boattail body using contact cement.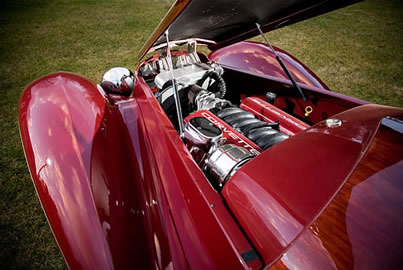 After Melissa stained the wood with mahogany, Car Classics of Port Richey, FL, who also did the bodywork prep for paint, masked off the white calking lines on the top of the body and sprayed the rest of the car maroon. The car was sent to One Off Technologies in Gilford, NH where Steve Pierce installed a BMW leather interior and fabricated a folding top that tucks away in the trunk. The next step in the evolution of this car involved Mike Ball of Goshen, IN building a set of bucks and fiberglass molds for the enclosed pontoon fenders. Gary Brown of Brown's Metal Mods in Indianapolis mounted the fenders and solved the challenge of making the front wheels and tires steer lock-to-lock inside the pontoons.